David Kato
Bibliography
Gettleman, Jeffrey. "David Kato, Gay Rights Activist, Is Killed in Uganda." The New York Times. 27 January 2011.
Srinivasan, Sharath. "A Matter of Life and Death: The Struggle for Ugandan Gay Rights." University of Cambridge. 27 January 2011.
" Uganda gay activist David Kato." BBC. 27 January 2011.
"Uganda: Promptly Investigate Killing of Prominent LGBT Activist." Human Rights Watch. 27 January 2011.
Websites
The David Kato Vision and Voice Award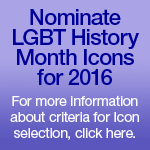 2015 Icons
16.
Edna St. Vincent Millay
28.
William "Big Bill" Tilden II